INTERNATIONAL NURSES' DAY 2016

POSTER COMPETITION
Date: 12th May 2016
Introduction:
On the occasion of International Nurses' Day, the faculties and students of Panna Dhai Maa Subharti Nursing College remembered Florence Nightingale, the patron of Nursing Foundation. Every year this day 12th of May is celebrated as International Nurses' Day, as it is the birthday of Ms. Florence Nightingale, also known as Lady with the Lamp.
Theme of Poster Competition:
"A force for changes; Improving Health System Resilience"
Posters Objective:
Nursing professional has a major role in improving the Health System.
Nursing professional can make an enormous impact on the resilience of health system.
Event Report:
The faculties and students of Panna Dhai Maa Subharti Nursing College organized state level poster competition based on the theme under the guidance of Dean Faculty of Nursing Prof. (Ms) Kalpana Mandal madam and Principal Ex. Capt. (Mrs.) Geeta Parwanda madam.  The information has given prior to all the nursing colleges of Uttar Pradesh and last day of submission of Posters was announced by 09th May 2016 then Students of various colleges under the state level participated in the poster competition.
The occasion was initiated with the unfolding of theme by Prof. (Ms) Kalpana Mandal, Dean Faculty of Nursing, followed by cake cutting ceremony. A message was delivered by Principal Ex. Capt. (Mrs.) Geeta Parwanda of the college to all the nursing students and faculties for the betterment of the profession in the near future on this occasion. Senior nursing professional of various departments of Chattarpati Shivaji Subharti Hospital celebrated the occasion by cutting the cake.
Total No. of Poster:
No.                       :         32
Venue                   :         All the posters were displayed in college reception.
Examples of Poster: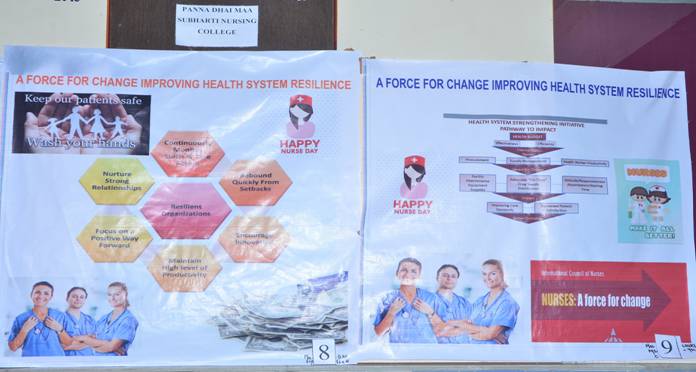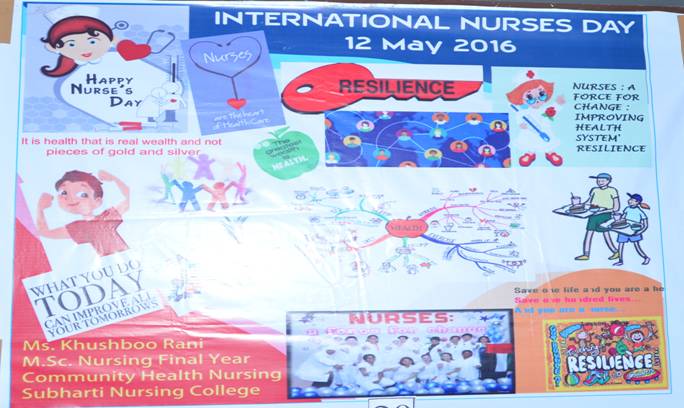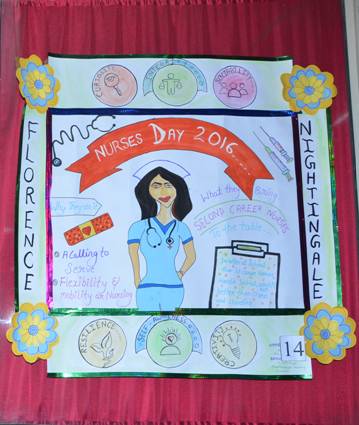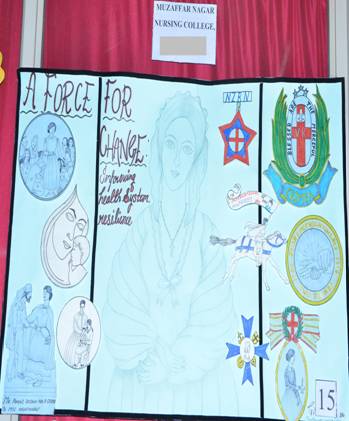 Evaluation:
At 10:00 AM, the ribbon cutting ceremony for the poster competition took place by Honorable Judges from constituent colleges of Swami Vivekanand Subharti University. The judges were Dr. R. K. Meena, Principal Subharti Physiotherapy College, Dr. Nila Sinha, HOD, Department of Paramedical Science, Dr. Bhawna Pant, Professor, Department Community Medicine, Subharti Medical College.
Posters were evaluated under evaluation criteria. (Copy enclosed)
Conclusion:
Declaration of result was announced in late evening and intimation was sent to participants. Principal congratulated participants for the sincere efforts taken for poster preparation. The posters did attract students and faculty member of other colleges and visitors. The event poster competition was successful in achieving the message.